NDC rings the bell at Muscat Securities Market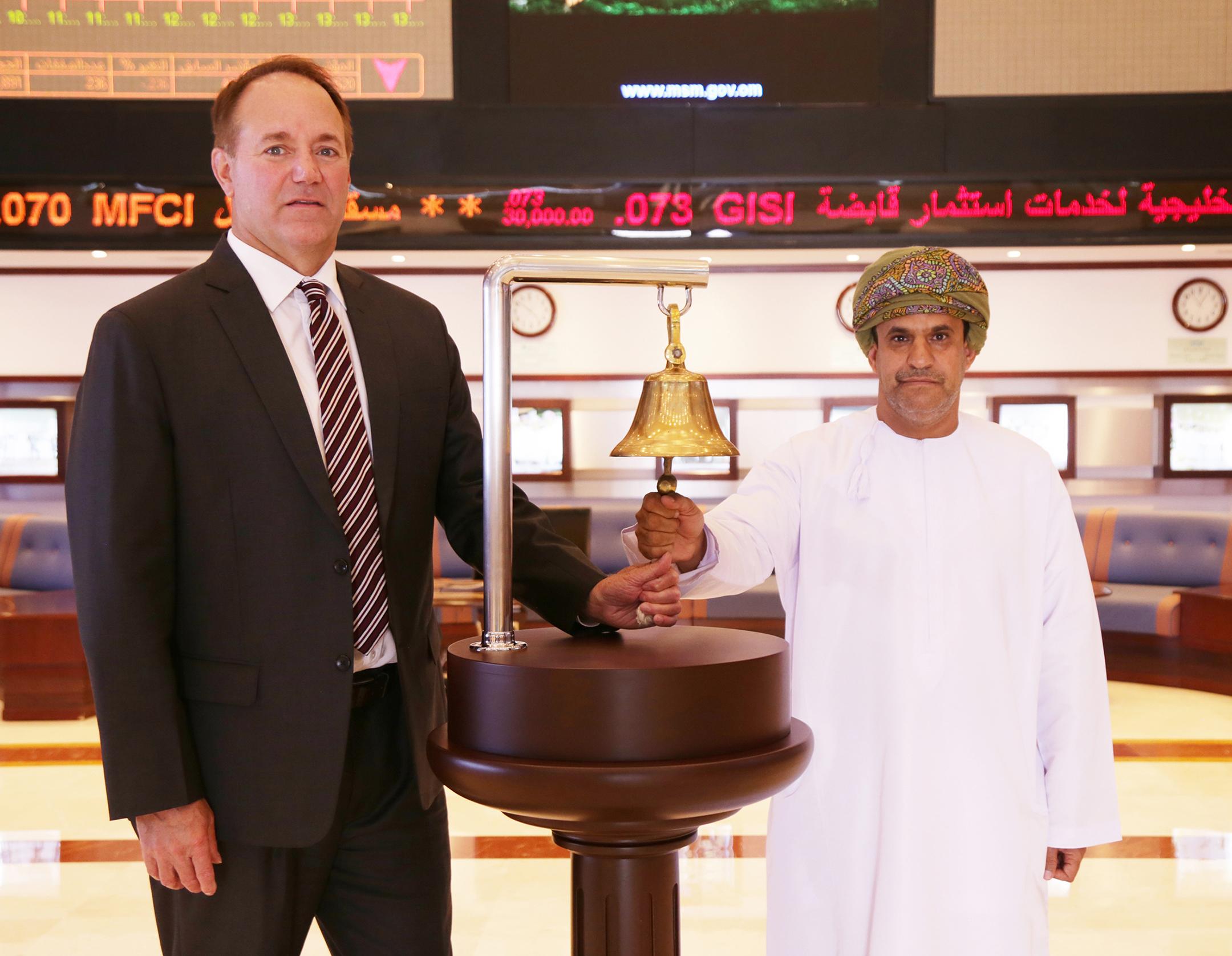 September 29, 2019
Muscat, Oman – In view of being one of the best performing companies in terms of profitability, stock liquidity and market capitalisation, the National Detergent Company (NDC) has been selected to be included in the prestigious Muscat Securities Market Industrial Index.
NDC, which is one of Oman's oldest and most respected companies, posted a 20% increase in comprehensive profit in 2018 over 2017. The Company's flagship brand BAHAR® laundry products are favoured in the region by consumers as it is designed for the GCC water condition and provides superior cleaning for a better value than multinational brands. The Company recently introduced Bahar Enzymatic Liquid Gel for customers looking for the best Bahar cleaning power in the convenience of a liquid.
Commenting on the success of NDC, William Hunt, CEO said, "We are delighted to be listed in the MSM Industrial Index. We thank our customers, trade partners, suppliers and shareholders for their ongoing support."
William Hunt was appointed as the CEO of NDC in 2018. A well-respected international executive, he holds an MBA from Chicago Booth School of Management and a Bachelor's of Science in Chemical Engineering from Washington University in St. Louis.
Established in 1981, NDC is one of the leading FMCG companies in the Sultanate of Oman. The company manufactures and distributes a wide range of highly reputed and successful brands covering various segments like detergents powders, liquid detergents, soaps, shampoos, allied laundry aids and household cleaners. The company's flagship brand BAHAR® is the market leader in Oman in both detergent powder and dishwashing liquid.
NDC, the first ISO certified soap and detergent company in the region, believes in giving the best value for money to its consumers. Over the years, this very philosophy has helped the company build an expanding customer base and strong brand equity. NDC's products are well accepted in export markets like Middle East, Africa and South Asia.
BAHAR® was voted as the "Greatest Brand" amongst 130 regional and multinational brands across categories some years back. NDC has also been the recipient of His Majesty's Cup Award for the Best Five Factories.
Quality offerings from NDC include Bahar Fresh Blossom detergent powder, Bahar Automatic detergent powder, Bahar Advanced Matic Gel, Bahar Enzymatic low foam detergent, Bahar Ultra Dish washing liquid, Bahar Fabric Softener, Bahar Abaya, Bahar Clean disinfectant, Bahar Antiseptic, No.1 detergent powder, No.1 action plus dish washing liquid, No.1 Abaya, No.1 disinfectant, Dzire Ultra-premium soaps and Luv luxury soap.