NDC hosts prize distribution ceremony of 'Clean Home with Bahar' promotion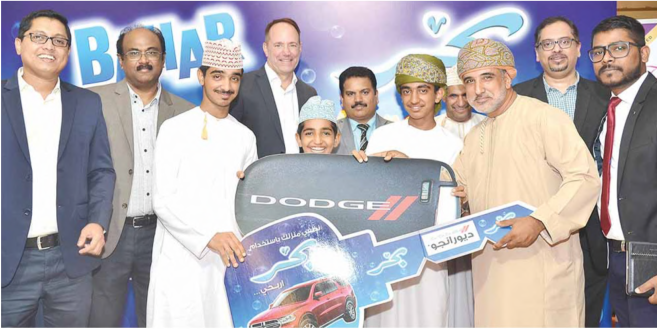 August 3, 2019
MUSCAT: National Detergent Company (NDC), one of Oman's leading FMCG companies, hosted the prize distribution ceremony of 'Clean Home with Bahar, Drive Home a Dodge Durango' promotion at Lulu Hypermarket in Wadi al Lawami, Al Khoudh.
The mega prize of Dodge Durango SUV was handed over to Saif Abdullah of Samail while other 65 winners received attractive prizes like 10 Samsung Galaxy S9+ phones, 20 Bahar Hampers for a year and 35 Samsung mobile phones. William Hunt, CEO, NDC, and top executives of the company were present at the prize distribution event.
After receiving the mega prize, an overjoyed Saif Abdullah said his family were loyal and trusted users of Bahar brand for many years. He lauded NDC for offering world-class quality products at affordable rates.
As a special gesture from NDC, people who had gathered at Lulu Hypermarket during the prize distribution event were offered a chance to participate in a spot prize to win a 40" Samsung LED TV and 40 Bahar gift hampers. The spot prize of Samsung LED TV was won by a lady shopper.
William Hunt, CEO, NDC, said, "We congratulate our brand loyalist Saif Abdullah on winning the Dodge Durango SUV. The 'Clean Home with Bahar, Drive Home a Dodge Durango' promotion was a huge success and it brought joy to many customers who won other attractive prizes. We will continue providing our customers with exceptional products and attractive rewards in recognition of their loyalty and continued support."
As part of the promotion, customers purchasing NDC products worth OMR 3 were given a 'scratch and win' card along with a raffle coupon. An additional raffle coupon was handed over to those who purchased Bahar Advanced Matic Gel (three-litre pack) or Bahar 48x100gm carton. The raffle coupon entitled the consumers to enter mega (Dodge Durango SUV), grand (Samsung Galaxy S9+ phones) and other prizes.
A K Shaji, Head of Business Development and Regional Sales, NDC, said, "It has been our constant endeavour to bring the most incredible and unique promotions to our customers in Oman. We would like to specially thank Lulu Hypermarket, Carrefour and The Sultan Center for their generous support towards 'Clean Home with Bahar, Drive Home a Dodge Durango' promotion which went on for two months. Our sincere appreciation also goes to other trade partners like KM Trading, Al Istqrar, Makha Hypermarket, Rameez Hypermarket and Tayabath."
NDC's regular promotions are supported by Public Establishment for Industrial Estates (PEIE). Through its Origin Oman campaign, PEIE promotes products manufactured in the Sultanate. The campaign creates awareness and increases the visibility of Omani products while encouraging residents to buy made in Oman products and avail of the quality services available in the country.
Anwar Sadhath, Commercial Manager, Lulu Group, said: "National Detergent Company's campaigns are very attractive and this time around since the mega prize was a Dodge Durango SUV, the promotion was a big hit with consumers walking into our stores. At Lulu, we always promote and encourage a world-class Omani product like Bahar by according to the merchandise prominent display and support throughout the year."
Quality offerings from National Detergent include Bahar Fresh Blossom detergent powder, Bahar Advanced Matic Gel, Bahar Enzymatic low foam detergent, Bahar Ultra Dishwashing liquid, Bahar Fabric Softener, Bahar Abaya, Bahar Clean disinfectant, Bahar Antiseptic, No.1 detergent powder, No.1 action plus dishwashing liquid, No.1 Abaya, No.1 disinfectant, Dzire Ultra-premium soaps and Luv luxury soap.