National Detergent Company holds beach cleanup drive in Sohar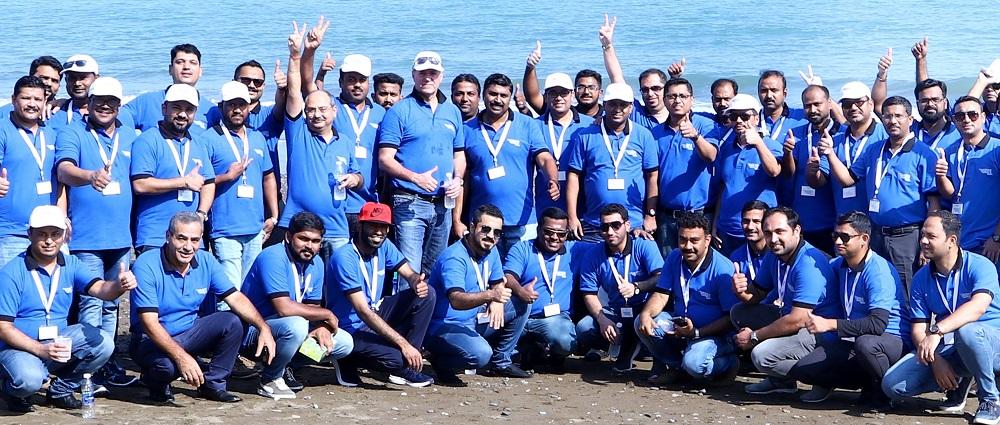 November 7, 2019
MUSCAT: Continuing its commitment towards help preserving the environment and natural resources, National Detergent Company (NDC), one of Oman's leading FMCG companies, successfully organised a beach clean-up campaign in Sohar on November 3, 2019.
Over 100 NDC employees devoted their efforts to collect trash from the shoreline in Sohar to ensure the beaches and their natural environs are clean and garbage free.
William Hunt, CEO, NDC, said, "Bahar brands of Laundry powder and Dishwash liquid is committed to operating with a strong environmental conscious and protecting the planet. At our last major management conference we made time to clean the beach in Sohar."
"Sustainability has remained at the core of NDC's operations and we have been actively partnering with leading organisations in Oman to promote sustainable practices. With a commitment to positively contribute to the environment, society and economy, we remain committed to continue exploring new ways to address the growing challenge of ecological degradation," he added.
Anish Kumar, Head of Marketing and Regional Sales, NDC, said, "As a good corporate citizen, NDC is committed to raising awareness towards the environment. We are keen to support all initiatives and campaigns related to sustainability, and by sustainability we mean preserving natural resources through which we minimise the risks posed by the use of other resources harmful to the surrounding environment."
Recently, BAHAR, NDC's premier brand, signed a headline partnership agreement with Apex Media to align their market leading BAHAR brand with the 'BITTER ABOUT LITTER' campaign launched by Apex Media. Whilst assisting the relevant authorities in Oman in their waste management efforts, the ongoing campaign will help present a cleaner environment to everyone who lives in or who visits Oman.
NDC's ongoing 'Clean Oman' school campaign reaches out to the young students of Oman and educates them about the importance of having a clean environment. The campaign has reached out to over 150,000 school students in Muscat, Sur, Sohar, Nizwa and Samail till date.