40 iPhones up for grabs at NDC's 'Win With Bahar & Lulu' promotion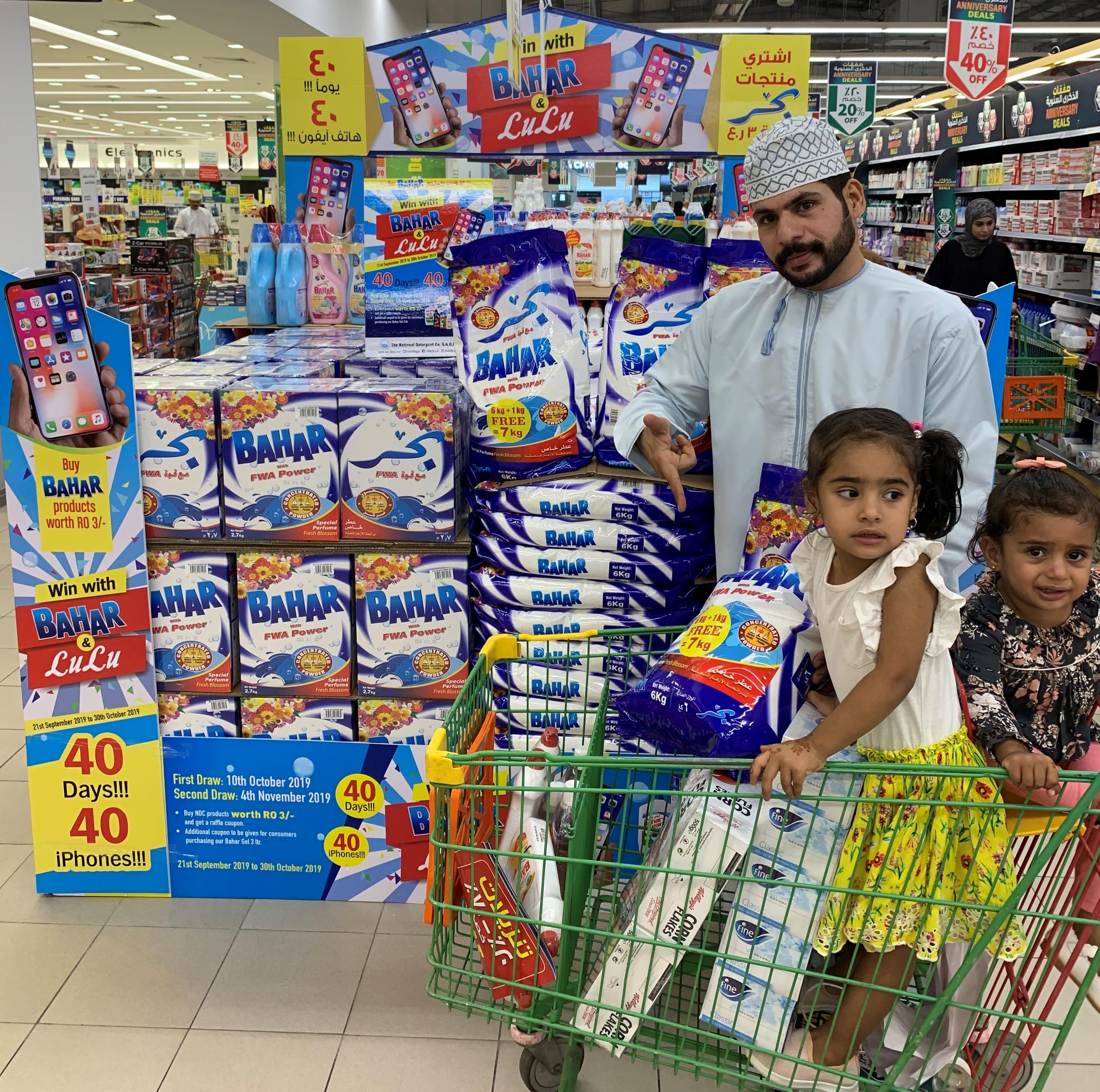 September 23, 2019
MUSCAT: National Detergent Company (NDC), one of Oman's leading FMCG companies, has launched an exciting winter promotion 'Win with Bahar & Lulu', exclusively for Lulu consumers. The 40-day campaign taking place at Lulu outlets in Oman will see 40 lucky winners taking home 40 iPhones.
The promotion which started on September 21, 2019 will go on till October 30, 2019. The first raffle draw is scheduled for October 10, 2019 while the second one will take place on November 4, 2019.
As part of the promotion, customers purchasing NDC products worth OMR 3 will be given a raffle coupon. An additional raffle coupon will be given on purchase of Bahar Advanced Matic Gel (three litre pack).
A K Shaji, Head of Business Development & Regional Sales , NDC, said, "The 'Win with Bahar' campaigns have been a huge success in the past and this time around we are rewarding our loyal customers with opportunities to win popular products like iPhones. We pride ourselves by continuously giving back and rewarding customers for their support to the brand. This promotion is just one example of our commitment to our loyal customers. The exclusive winter promotion is only available in Lulu outlets, has been garnering great response."
"We believe the mega prize of 40 iPhones are a fantastic incentive to encourage our customers to shop more in order to increase their chances of winning in the raffle draw," he added.
The 'Win with Bahar & Lulu' promotion is available on National Detergent Company products purchased from Lulu outlets in Oman only.
Anish Kumar, Head of Marketing & Regional Sales , NDC, said: "We are really excited to launch our 'Win With Bahar & Lulu, 40 days, 40 i Phones" promotion with a revamped prize pool which includes very special prizes for Bahar and Lulu customers. Through this campaign, we aim to engage with a wider customer base and offer them one-of-a-kind experience of winning high-value prizes."
Anwar Sadhath, Commercial Manager, Lulu Group, said: "We are happy to host an exclusive promotion of National Detergent Company in Lulu outlets across Oman. Going by the success of NDC's previous campaigns, we have no doubt the 'Win with Bahar & Lulu' promotion will be a hit among customers who participate in the campaigns with great enthusiasm. At Lulu, we always promote and encourage a world-class Omani product like Bahar by according the merchandise prominent display and support throughout the year."
NDC's regular promotions are supported by Public Establishment for Industrial Estates (PEIE). Through its Origin Oman campaign, PEIE promotes products manufactured in the Sultanate. The campaign creates awareness and increases the visibility of Omani products while encouraging residents to buy made in Oman products and avail of the quality services available in the country.
Quality offerings from National Detergent include Bahar Fresh Blossom detergent powder, Bahar Advanced Matic Gel, Bahar Enzymatic low foam detergent, Bahar Ultra Dish washing liquid, Bahar Fabric Softener, Bahar Abaya, Bahar Clean disinfectant, Bahar Antiseptic, No.1 detergent powder, No.1 action plus dish washing liquid, No.1 Abaya, No.1 disinfectant, Dzire Ultra-premium soaps and Luv luxury soap